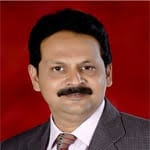 Greetings!
It is gratifying to note that the Degree College of Physical Education is completing its 50 years of dedicated service rendered to the noble profession of physical education. During this long period of its service the college has several achievements to its credit. The college has now become autonomous and multi- faculty one. This can be considered a unique feature for which it has gained popularity in profession.

I am glad to note that its alumni are spread all over India and some of them are appointed on higher posts in Government departments, universities as well as in different schools and colleges. The college students are excelling in academic and sports field equally well. This is, I suppose, because of the dedicated faculty, sports infrastructure facilities and eco-friendly surrounding maintained by its management. The college is passing through a transitional period and has to face many challenges in this age of technology.

I have least doubt in my mind about the increasing capability of the college to face these challenges. I acknowledge with appreciation for successfully completing incredible 50 years and best wishes for their endeavors and further progress.
With all good wishes,
President,
Dr. Ramesh L. Godbole
Shree Hanuman Vyayam Prasarak Mandal
Amravati. MS-INDIA 444605